Change in a city landscape can cause temporary disorientation. For participants at Burning Man, when landmarks move, returning to home camp or moving among art installations is a challenging endeavor (i.e., "Why aren't we getting any closer to the big duck?!?" "Maybe because we're chasing an art car, not an art installation?!").
In conventional cities, change isn't as jarring. However, locals take note of what they perceive as the "wrong" kind of change – the appearance of a pawnshop or a check cashing outlet, the conversion of apartments into a homeless shelter, or single resident occupancy (SRO) , or new construction that knocks down a beloved landmark.
Alternatively, change can signal revitalization. For example, for several years, several storefronts on a nearby busy street corner were shuttered and unoccupied. Recently, three businesses moved into these spots.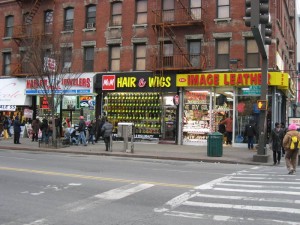 Here's a close-up of the store with a fascinating window display of 90 numbered and bewigged mannequin heads: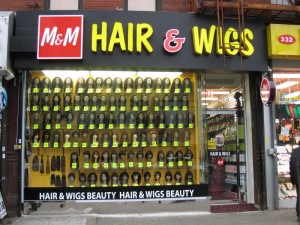 Interested in viewing more changes of Harlem storefronts? See this repository of photos, which were collected by Camilo Vergara.
My take: NYC and Black Rock City are evenly matched in terms of interesting change.
Burning Man: 1, Big Apple: 1